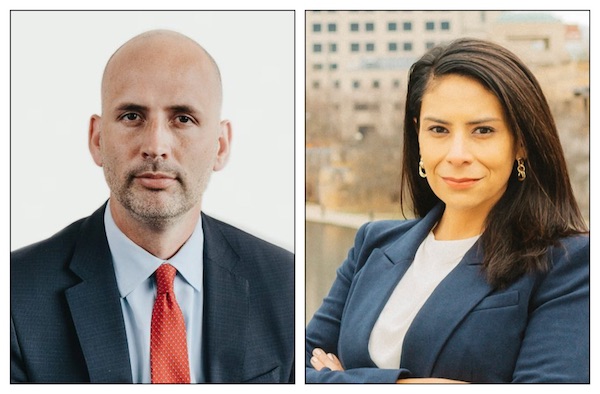 Marion County Prosecutor Ryan Mears, left, and GOP challenger Cindy Carrasco
Marion County voters will have a distinct choice to make for prosecutor when they go to the polls on Nov. 8. Democratic Prosecutor Ryan Mears and Republican challenger Cyndi Carrasco couldn't be further apart on some key issues.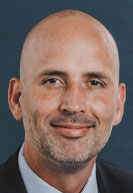 Mears has chosen not to pursue cases involving small amounts of marijuana so his office can focus more on violent crime, and he also has announced that he won't prosecute offenses related to the state's now-on-hold abortion ban in order to protect physicians who work with mothers terminating a pregnancy.
Carrasco said the office's focus on combating violent crime should be even greater. And she said that while she wouldn't make prosecuting low-level marijuana offenses or abortion-related crimes committed by health professionals a high priority, such offenses should be judged on a case-by-case basis, not blindly dismissed.
She has criticized Mears' general approach as "soft on crime" and has blamed him for what she calls a revolving door of repeat offenders and a rise in violent offenses across Indianapolis.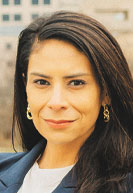 The candidates also disagree on whether downtown is safe. Mears maintains that it is, despite some problems caused by homelessness. Carrasco says business owners experience break-ins with no consequences for bad actors and homeless loiterers drive away customers.
For Mears, the election will be his first chance to learn how voters truly feel about his approach to prosecuting criminals. He was elevated to the post by Democratic Party officials in October 2019 to complete the term of Prosecutor Terry Curry, who became increasingly ill from prostate cancer and later died.
For Carrasco, the election will give her an opportunity to show whether a well-funded Republican with the right message can again win a countywide election. That hasn't happened since 2011, when then-Mayor Greg Ballard was elected to a second term.
Carrasco's path
Carrasco grew up in Texas, the daughter of Mexican immigrants. After completing undergraduate studies at the University of Texas at El Paso, she moved to Indianapolis to attend the Indiana University Robert H. McKinney School of Law, where she graduated in 2006.
When it came time for Carrasco to take the bar exam, she had a choice to make: Go back to Texas or stay in Indianapolis. Ultimately, she said, she decided to stay because she felt she could make an impact.
She began her career as a staff attorney with the state's Office of Inspector General under then-Gov. Mike Pence and later became executive director of the State Ethics Commission. She was later appointed inspector general herself, then became deputy general counsel for Gov. Eric Holcomb's office. In January, Carrasco joined law firm Riley Bennett Egloff LLP.
Marion County Republicans have high hopes for Carrasco. She has never run for office, but party Chair Joe Elsener approached her about running during her time at the Statehouse. She said she was unsure at first—largely because she liked her state government job.
But the rise in homicides in 2020 and 2021 and gunfire outside of her 9-year-old daughter's school solidified her decision. She announced her candidacy in January.
"I'm not concerned whatsoever about my politics," Carrasco told IBJ. "I'm not running as a political party. I'm a lawyer. I'm a mom who simply wants the city to be safe for my family."
Samantha DeWester, an attorney with Beam Longest and Neff LLC, attended IU McKinney with both Carrasco and Mears. She also worked with Carrasco at the Statehouse and is heavily involved in the Marion County Republican Party.
DeWester noted that she grew up acting as a translator for her Spanish-speaking parents and navigated the professional world in Indianapolis as a Hispanic woman.
And she said Carrasco is kind, but her kindness shouldn't be mistaken for weakness. "She's got a great disposition. She's patient. She's intelligent. She's easy to work with," DeWester told IBJ. "In Marion County, she's very fired up about all the crime and the craziness going on."
From the start of her campaign, Carrasco has attacked Mears' three-year tenure by highlighting violent crimes carried out by perpetrators with a criminal history. She said his office cuts "sweetheart deals" that let violent offenders back on the streets too soon.
A recent example came Sept. 16, when 32-year-old Krystal Walton was shot and killed by a man outside of her child's day care. The suspect, Orlando Mitchell, previously had faced domestic abuse charges. Carrasco released a statement criticizing how long it took the Prosecutor's Office to file charges for the initial 2021 domestic incident and the "lenient" plea deal Mitchell received afterward.
"I started to just go [online] whenever I heard somebody's name who was charged with murder, and I'd look at their criminal history, and a lot of times—I won't say all the times, but a lot of times—you saw a pattern of plea deals from the Prosecutor's Office that would send them on home detention on an ankle monitor," Carrasco said.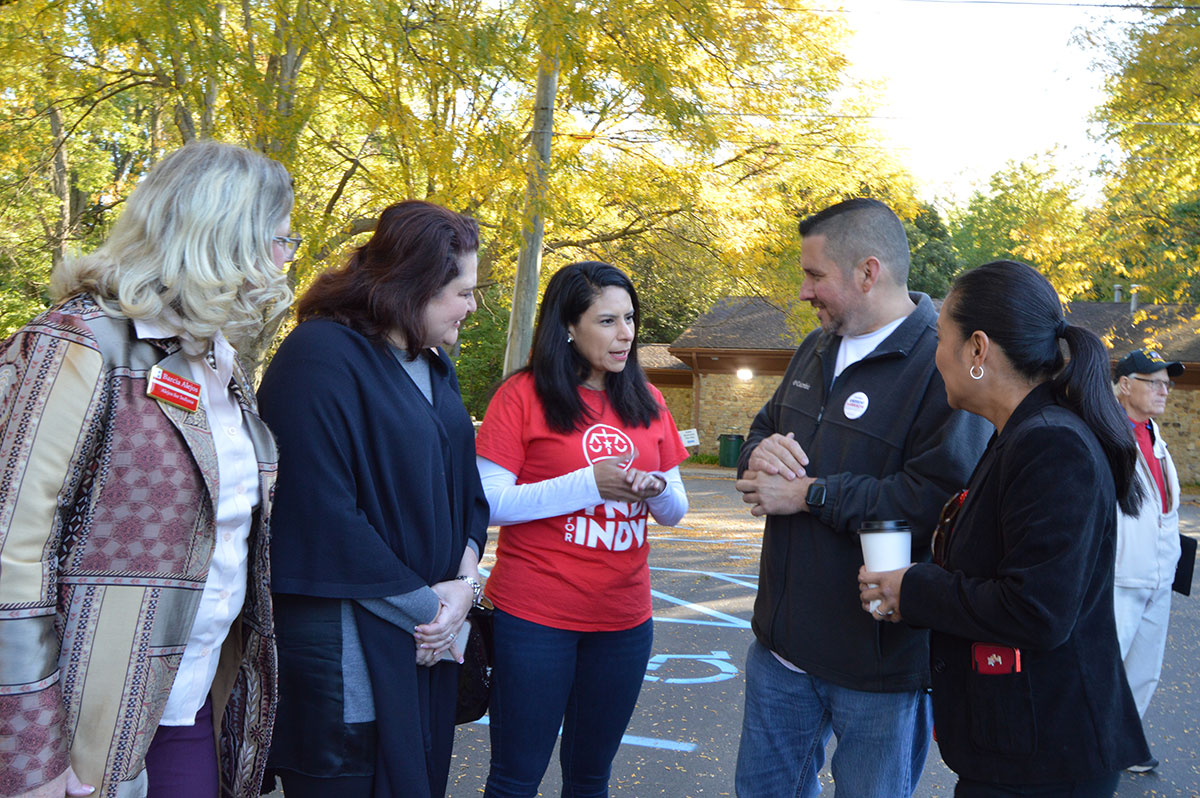 GOP hopes
Marion County Republicans are hopeful about Carrasco's campaign despite changing county demographics that now solidly favor Democrats.
They believe residents want a prosecutor who is tougher on crime to help deal with the county's homicide rate, which has risen dramatically since 2019 but has dipped this year.
Marion County's monthly average of homicides increased from 2019 to 2020 and again in 2021. The rates were 12.8, 18.4 and 20.6 homicides per month, respectively, according to an analysis of IMPD data by IUPUI's SAVI Community Information System. According to The Indianapolis Star, 2022 has seen 173 homicides through Oct. 16, for a monthly average of 18.2.
The Indianapolis Fraternal Order of Police has endorsed Carrasco. Although FOP President Rick Snyder commonly appears on conservative talk shows that favor GOP candidates, the group did endorse Mears' Democratic predecessor.
Snyder said the FOP's problem with Mears is his decision not to prosecute certain kinds of cases. In August, just 1.1% of voting FOP members said they had confidence in Mears.
"This prosecutor that we have right now spends more time telling you what laws he won't enforce versus [what] he will," Snyder told IBJ. "And we have said time and time again, our city—which is in crisis, a crisis of violence and crime—doesn't need another public defender."
While Mears maintains that downtown is safe, Carrasco has scoffed at the notion and pointed to Starbucks' announcement last week that it will close its Monument Circle location due to safety concerns for its employees.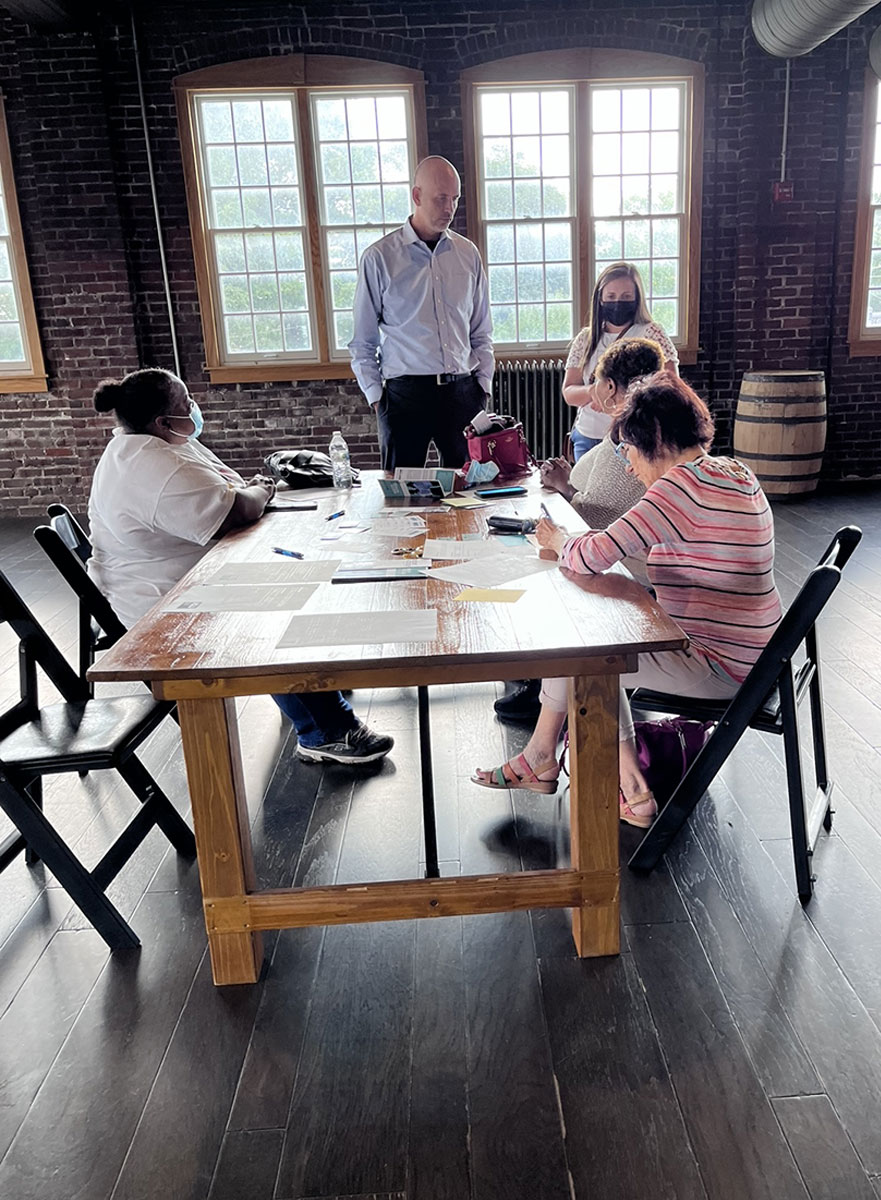 Citing citywide statistics—not downtown data—she said "violence throughout Indianapolis is out of control, and our once vibrant and thriving downtown is suffering. People are dying, and businesses are closing."
In response to the closure of the downtown Starbucks, Downtown Indy Inc.'s new CEO, Taylor Schaffer, and city spokesman Mark Bode said data indicates that downtown is the safest Indianapolis district, accounting for less than 5% of the city's crime.
At an Oct. 10 debate with Carrasco, Mears characterized downtown crime as vandalism and nuisances caused by homelessness. He suggested that the city could house homeless people in underused hotels, as it did during early months of the pandemic.
Mears' experience
Mears has been working in the Prosecutor's Office more than 15 years.
He grew up in Indianapolis and attended Cardinal Ritter High School, a private, Catholic school on the west side. He played basketball there and later at St. Joseph's College in Rensselaer. He received his law degree from IU McKinney.
He was chief trial deputy under Curry when the prosecutor announced his resignation due to his worsening health. A Democratic caucus selected Mears to succeed Curry instead of a candidate endorsed by Mayor Joe Hogsett.
"It was kind of a weird set of circumstances that put me in a position to be in politics," Mears told IBJ. "But I never envisioned that for myself and never really thought I would pursue it."
Mears, 42, said he was influenced by the philosophical shift Curry brought to the Prosecutor's Office—focusing on root causes such as substance abuse and mental health and seeking resolutions that don't always involve jail time.
Mears has carried those approaches into his own time as prosecutor.
He has worked to find ways to help low-level offenders get second chances to clear their records and find work, while boasting what he said are high homicide conviction rates. Last year, the office's homicide conviction rate was 84%.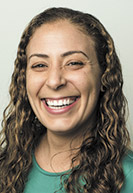 Lahny Silva, a criminal law professor at IU McKinney, met Mears in 2019. She has been working with the prosecutor on second chance programs. Silva said Mears is mild-mannered, easy to approach and a good listener. She also applauded his use of reentry programs, focus on root causes and community involvement.
"I think he's a walking best practice that's been supported by empirical evidence," Silva told IBJ.
Daniel Cicchini has known Mears since 2015 and works at the Prosecutor's Office. Mears' experience is essential to the race, Cicchini said.
"He really does understand what it takes to prosecute a difficult case—to be successful prosecuting a difficult case," Cicchini told IBJ. "And for me, that experience is invaluable."
The prosecutor also visits victims and family members of victims right after tragedies, he said.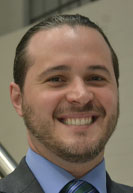 "He's really compassionate. He's really thoughtful," Cicchini said. "And that comes off in his meetings with folks in the community, just genuinely wanting to help put folks in a better position than they were."
Mears has established several programs to help restore driver's licenses for Marion County residents, something he considers key in providing them with a way to get to work rather than be trapped in poverty.
He said 130,000 of the county's 964,000 residents have suspended driver's licenses. Often, that's because they can't afford to pay a traffic ticket, not because they are dangerous drivers, he said.
"This is criminalizing poverty, not addressing public safety," Mears says on his campaign website.
The same philosophy drove his decision to stop prosecuting low-level marijuana offenses, which he said disproportionately punishes people of color even though usage of the drug is the same among whites.
But Carrasco argued that violent crime also affects minorities more than whites and needs to be a greater focus.
"I understand what it is to be a minority, and I understand the plight of the minority populations," she said. "And I very much am concerned about the disproportional effect that minorities are suffering from the violence."
She said her approach to nonviolent crime isn't just to throw people in jail, either. Her goal is to use "meaningful accountability," which could involve drug treatment, behavioral health, a problem-solving court and, in some cases, incarceration.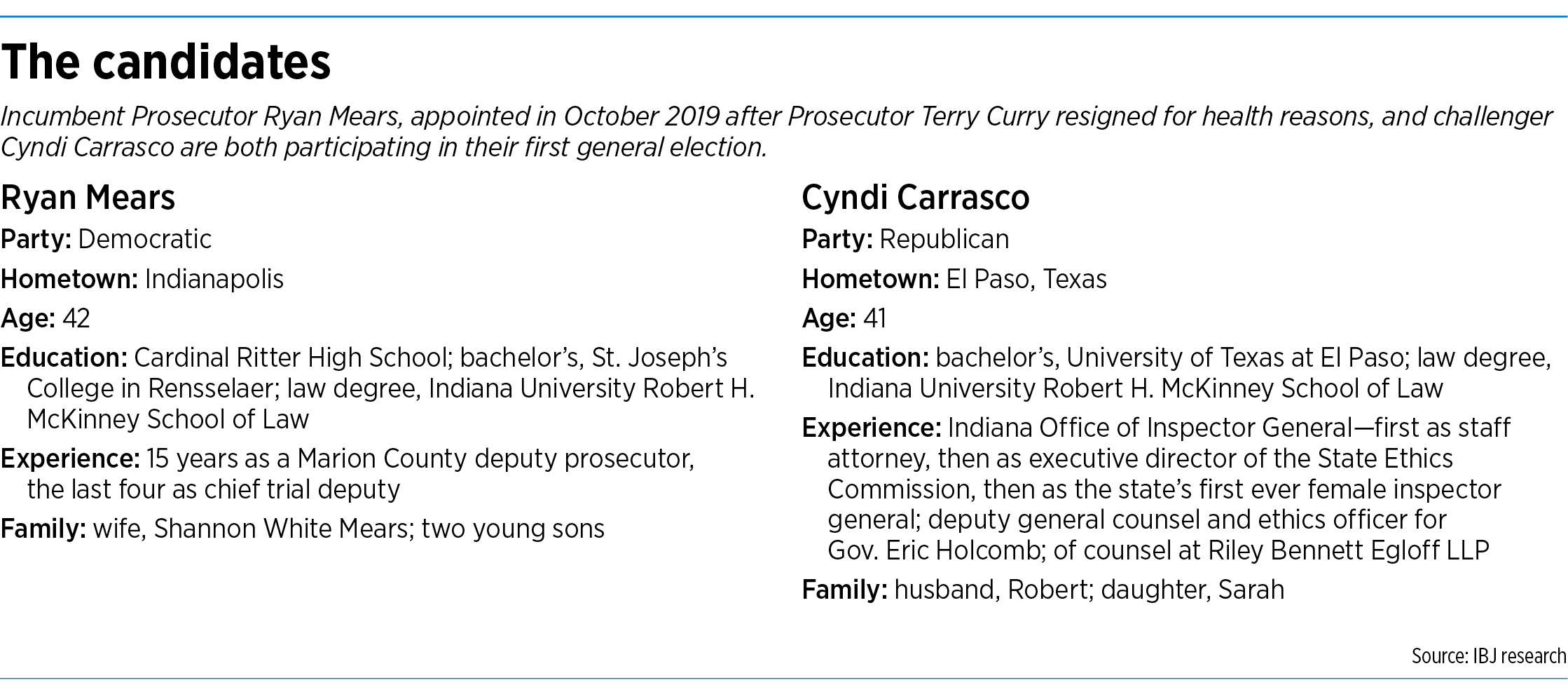 Controversial stance
Mears' decision to not prosecute certain crimes has been polarizing, particularly his call not to prosecute anyone under the state's now-on-hold abortion ban.
No other county prosecutors in Indiana took the same approach, but Mears was one of nearly 100 prosecutors and district attorneys across the country who signed a letter from Fair and Just Prosecution—a left-leaning group based in New York City that promotes equity in criminal justice—committing to not prosecute abortion cases.
Mears has said he won't waste one resource on such cases and will instead stay focused on keeping the community safe.
Fair and Just Prosecution Executive Director Miriam Krinsky said prosecutors have the right to make such blanket decisions. And in return, voters can decide if it's the right one.
"At the end of the day, the important thing is for chief prosecutors to be transparent about what they're doing and why, and the community will decide at the ballot box whether those choices align with the vision of safety and justice that they want," Krinsky said.
Probably the harshest scrutiny to fall on Mears came following the April 2021 FedEx shooting in which a gunman killed eight people and injured at least five others.
Mears' office was criticized for not filing a "red flag" case against the shooter earlier. According to the FBI, Brandon Scott Hole's mother told law enforcement agents in March 2020 that her son was threatening "suicide by cop." He was detained and examined but was released after a shotgun found in his bedroom was confiscated and kept.
Red-flagging the shooter might have prevented him from being able to legally purchase two AR-15-style rifles later that year that he used in the FedEx attack.
During the controversy, Mears told The Indianapolis Star that, at the time, the "red flag" law didn't give prosecutors enough time to subpoena medical records and build a strong enough case to prove that a person shouldn't have access to guns. The FOP and other critics disputed that claim.
In the debate this month with Carrasco, Mears also argued that the only way to keep guns out of the hands of "flagged" individuals is for the state to regulate private gun sales, such as those conducted over the internet or at gun shows.
And he told IBJ he tries to keep the controversy from distracting him.
"My focus is on what we're doing in the office and how we can make the best contribution to the community," Mears said. "All the outside stuff is just noise and is designed to distract you from the mission of the office."•
https://www.theindianalawyer.com/articles/approach-to-fighting-crime-divides-candidates-for-prosecutor