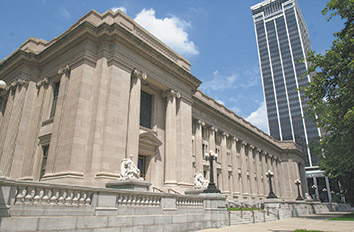 The Birch Bayh Federal Building & U.S. Courthouse in downtown Indianapolis. (IL file photo)
The Historical Society of the U.S. District Court for the Southern District of Indiana's is hosting a CLE event this week focused on federal criminal defense of indigent litigants.
The one-hour panel presentation, "Federal Defenders, the Criminal Justice Act, and the Impact of the Cardone Report," will be moderated by Indiana Southern District Court Magistrate Judge Mario Garcia starting at 2 p.m. Friday.
Panelists include Judge Jane E. Magnus-Stinson; Monica Foster, chief federal defender for Indiana Federal Community Defenders; attorney Doneaka Rucker-Brooks of Brooks Law Office; and attorney Kenneth Riggins of the Law Office of Kenneth L. Riggins.
The program will take place at the Birch Bayh Federal Building & U.S. Courthouse and via Zoom.
Attendance is free to lawyers and law firms who are members of the historical society.
To RSVP for the program, email [email protected].
The historical society "is an Indiana public-benefit, nonprofit corporation dedicated to recovering, preserving and promoting the history and artifacts of the United States District Court for the Southern District of Indiana, and to educating the public about the role and function of the Court."
As part of its mission, the historical society "also undertakes projects designed to preserve and enhance the historical, artistic and architectural character of the Court's facilities. The Historical Society produces publications, special events and other projects to achieve its goals in education and restoration."
https://www.theindianalawyer.com/articles/cle-panel-to-discuss-federal-criminal-defense-of-indignant-litigants